Logistics
Integrated Freight Management Solutions and Services
ZERVAS SA provides all services to third parties with modern technological solutions and highly trained staff, covering the entire range of the supply chain.
Services we provide:
Dry & cold cargo storage
Loading and unloading (5 Ramps)
Order preparation - piece picking
Document flow - document issuance and management
Transport, distribution (door 2 door)
Packaging / repackaging
Return management
Cash on delivery
Management of customs warehouses
Why ZERVAS S.A.?
Η ZERVAS SA. provides Logistics services with 3,200 sq. m. privately owned storage facilities and cold rooms (maintenance, freezer, controlled temperature) serving 7 prefectures in Western Greece and the Ionian Islands.
In ZERVAS SA we are committed to operating by providing our partners with high quality Logistics services that meet their needs and expectations.
We implement an Integrated Quality Management System, which ensures the storage and handling of goods.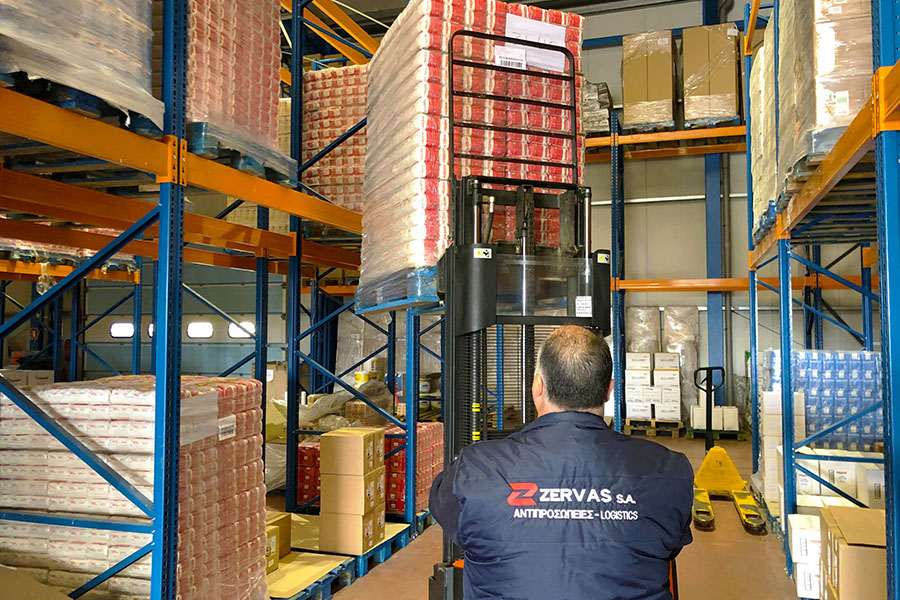 Storage Rental
In ZERVAS SA we have warehouses for rent, with multi-year contracts, to companies that want to manage their own goods. These spaces are configured from the beginning according to the requirements and specifications set by the customer and relate to any form of specialized storage needs such as, between others, dry and refrigerated cargo.
Tax Warehouse
ZERVAS SA also has and provides for rent Tax Warehouse thus completing the range of services it offers. It is a solution for storing items such as imported coffee and alcoholic beverages subject to excise duty.